A Regional System of Fisheries Refugia
Written by Christopher John Paterson
Wednesday, 09 November 2005
The Fisheries Component of the UNEP/GEF South China Sea Project has been working closely with the Southeast Asian Fisheries Development Centre (SEAFDEC) to develop a system of fisheries refugia for the management of fish stocks important, in terms of income generation and food security, to coastal fishing communities in the Gulf of Thailand and South China Sea.
Last Updated ( Monday, 28 August 2006 )
Read more...
Fisheries and Habitat Management
Written by Christopher John Paterson
Wednesday, 09 November 2005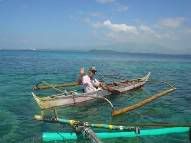 Translating policy into action is an ongoing focus of the SCS Project, and essential for meeting the SCS Project objective of establishing a regionally co-ordinated approach to action aimed at reversing environmental degradation trends in the South China Sea and Gulf of Thailand. As such, the fisheries component, led by the Regional Working Group for the Fisheries Component (RWG-F), is developing mechanisms to effect the integration of fisheries and habitat management, as well as establishing examples of best practice in the management of the environmental aspects of regional coastal and marine fisheries.
Last Updated ( Tuesday, 15 August 2006 )
Read more...
<< Start
< Prev
1
2
3
4
5
6
Next >
End >>
Results 36 - 37 of 37